1850 KM – 25,000m
泰国 > 老挝 > 越南 > 中国 Thailand > Laos > Vietnam > China
2周 Two Weeks
路线 Route
查看以上Komoot合集或RidewithGPS合集。也可以在Strava 上获取GPX文件,查看骑行日志。Check out the above Komoot collection or RidewithGPS Collection . Also check out daily posts for Strava GPX Files and notes.
这是一段时间以来我一直想去做的旅行! 边境现在是开放的,很容易跨越。这条路线在泰国停留1天(我因为经常在这里骑车,但如果你没有去过那里,你值得花更多的时间),然后在老挝停留3天,然后在越南停留一周,然后在中国停留了1天。几年前,我在这里第一次乘坐法国的窄轨蒸汽小火车参观了一个非常迷人的山区! This is a trip I've been meaning to do for some time! Borders are now open and easy to cross. This route had 1 day in Thailand (cycle there regularly but if you don't spend more time there), followed by 3 in Laos, then a week in Vietnam and then 1 day in China. A very stunning mountainous region I first visited on a little narrow gauge steam French train years ago!
A video shorts of trip on Bili or Youtube
---
路线选择 Route Options
根据你的时间和你过去是否去过这些地区,有很多选择。There are a bunch of options depending on your time and if you've visited the areas in the past.
你有一个月时间的话:增加泰国(1) – 从清迈开始,做Mae Hong Son环线,爬上泰国最高的山峰。再在越南和下龙湾多呆几天(2),然后沿着海岸越过边境进入中国,最后到达北海。为这次探险之旅增加了一些大海的体验。Got a Month: add Thailand (1) – Start in ChiangMai and do the Mae Hong Son loop and go up Thailands highest mountain. Add a few more days in Vietnam and Ha Long Bay (2) and cross the border by the coast into China and end in Beihai. Adds a bit of sea experience to the adventure.
如果你只有两周的时间:就按照我的方法去做,但我建议可以乘船和骑自行车去琅勃拉邦,从中国边境到南宁走另一条路线。Got two weeks: do what I did but suggest Lao's maybe boat and bike (5) to Luang Prabang and a different route from the China border to Nanning.
如果只有一周时间:从昆明或河内(3)坐火车、汽车或骑自行车去越南北部。Got a week: Then train, van or cycle in from Kunming or Hanoi (3) and just do North section of Vietnam.
其他可选方案:从景洪骑自行车进入该地区(4)。区。Alternatives: Cycle the back roads from Jinghong into the area (4).
我有兴趣乘船&骑砾石自行车回到老挝,也有兴趣骑砾石自行车绕过越南北面的山顶多探索一下河江地 I'm interested to go back and do Laos by boat & full gravel bike and also gravel bike around the north VN hills a bit more exploring Ha Giang area.
---
旅行发布 Trip Posts
日记,笔记,Starva 等等 Diary, Notes, Strava etc
---
装备 Gear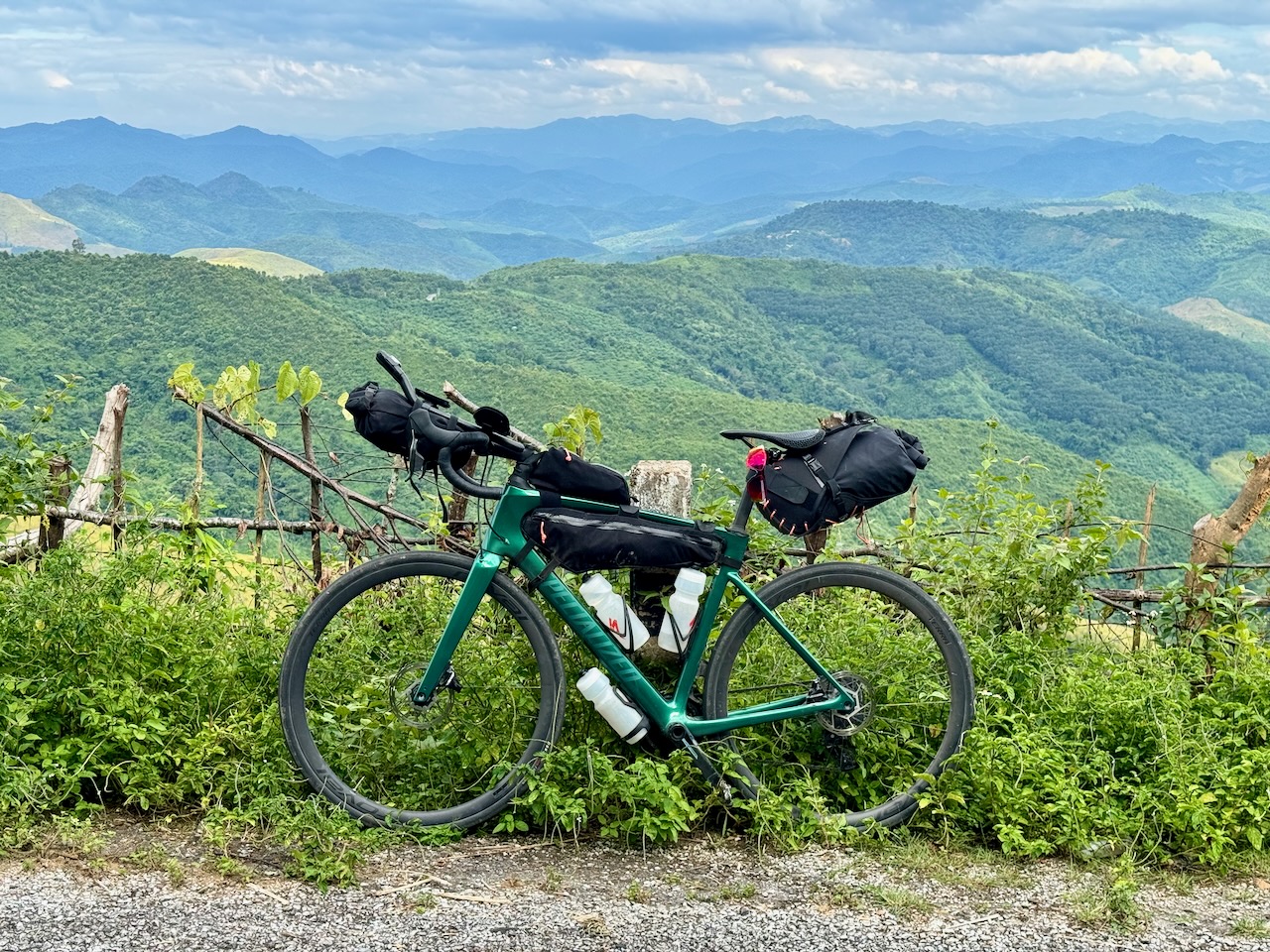 非常主观的个人观点,但我带了太多东西。因为要爬坡,所以你要尽可能地轻装上阵,而且天气永远不会太冷,所以你不需要太多的装备。我应该带的自行车装备,手机和GoPro(不需要无人机或ipad), 1套骑行服,2个水瓶(不是3个),减少其他东西。我本可以减掉3公斤左右的体重,减掉一半的体积。Very subjective personal view but I took too much stuff. Due to hills you want to go as light as possible and it never gets too cold so you dont need much gear. I should have gone for 1 off bike kit, phone and GoPro (no drone or ipad), 1 cycle kit, 2 water bottles (not 3) and reduced other stuff. I could have cut weight by 3kg or so and bulk by half.
自行车:要选能应对全天候烂路,能越野,能骑快的旅行自行车。我选择的是闪电的SL8 Roubaix。多齿比和舒适是关键!Mondo 32轮胎性能很好,非常快,整个行程中只有一次爆胎(因为玻璃)。自行车上的缓震效果很好。虽然我有闪电的合作伙伴关系,但无论如何,我还是很推荐用这款自行车来做这种类型的骑行!Bike: I would say the perfect all day bad road, bit of off road fast touring bike. Specialized SL8 Roubaix. Lots of gears and comfort are key! Mondo 32 tires worked great, very fast and only had one puncture on the entire trip (glass). Compliance on bike works great. I have a partnership with Specialized, regardless, I highly rate this bike for this type of thing!
设定:带光点的TT酒吧非常适合巡回演出。更多的位置上的自行车和更(舒适)的空气动力学!iGPSport GPS(免责声明也是合作伙伴)工作良好。绑带(免责声明也是合作伙伴)行李非常坚固。后袋是伟大的,因为你可以在一天结束的时候把防水的东西从皮套里拉出来,最小的大惊小怪,容易打包。不需要咖啡、杯子和滤水器,不需要无人机或iPad /键盘,不需要额外的自行车装备(无论如何每天晚上都要洗澡),防晒霜和屁股霜是必须的,应该有额外的2套刹车片,还应该带一件雨衣而不是防风夹克。Sea to Summit干包和超轻可包装帆布包的工作,如广告和额外防水的好主意…. Setup: TT bars with blips are great for touring. More positions on the bike and more (comfortable) aero! iGPSport GPS (Disclaimer also partner) worked fine. Restrap (Disclaimer also partner) luggage is very solid. Rear bag is great as you can just pull the waterproof stuff sack out of the holster at the end of the day with minimal fuss and easy to pack. No need for coffee, cup and water filter, no need for drone or iPad / keyboard, no need for extra set of cycling gear (wash every night in shower anyway), sun cream and ass cream a must, should have had extra 2 sets brake pads, should also have taken a raincoat instead of wind jacket. Sea to Summit dry bags and ultra-light packable rucksack work as advertised and good idea for extra waterproofing….
其他装备:Lululemon (合作伙伴)短裤和t恤-防臭非常好,完美舒适好收纳!几乎所有的酒店都会提供Fitkicks袜子、鞋子、拖鞋,但是我的脚太大了,实际上你可以穿着这些在城里和机场行走。
Off bike: Lululemon (Disclaimer also partner) shorts and t-shirt – Anti smell ones which are great. Perfect comfortable off bike small packing gear! Fitkicks sock shoes, slippers/flops are provided in nearly all the hotels but my feet are too big and you can actually walk around town and through airports in these.
关于我的合作伙伴:我选择他们是因为我喜欢并在使用他们的产品。我不会推荐我不喜欢或自己不会使用的产品。我不会接受合作伙伴付费式的虚假好评。Note about my partners: I choose them because I like and use their products. I don't promote products I don't like or would not use myself. I don't accept payment from partners and I do provide feedback on them.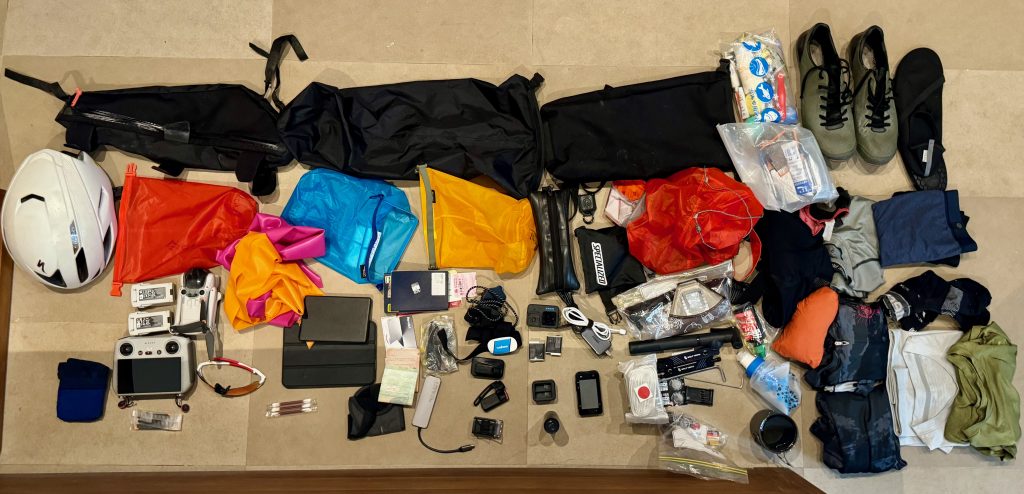 ---
季节 & 安排 & 旅行
Timing & Schedules & Travel
什么时候去?雨季会使天气变冷,或者就是会很热。我选择了雨季结束的时候。泰国北部和越南北部似乎略有不同。从1月到3月/ 4月(雨季开始)的农作物焚烧,泰国北部地区污染严重(估计影响整个地区)。我想11月或12月是理想的,但在越南北部的山上可能会有点凉。When to go?: The rainy season cools things down or it's hot. I chose the end of the rainy season. North TH & VN seem to be slightly different. Bad pollution in north TH (guess affects the whole area) from crop burning in January through March / April (start of wet season). Guess Nov / December is ideal but can get a bit cool on the hills in north VN then.
签证:没什么太复杂的。旅行前一个月做一些调查。我不需要泰国签证,洛杉矶落地签。越南的在线电子签证,一周可以拿到。我有中国签证。对于中国人来说,我认为你目前不需要签证(你很幸运!) Visas: Nothing too complicated. Do some research a month before your trip. No need for a TH visa for me, visa on arrival for LA. Online eVisa for VN, give it a week. I have a China visa. For Chinese I don't think you currently need a visa for any of it (lucky you!).
旅游: 从东南亚,清莱经BK到清迈的航班方便,南宁是一个大机场,所以有国内和东南亚的选择。将自行车送到闪电南宁店,而且在国内包装和运输非常方便。Travel: Easy flights into ChiangMai from SE Asia, Chiang Rai via BK. Nanning is big airport so domestic and SE Asia options. Delivering bike to Specialized Nanning and having them pack and ship domestically was extremely convenient.
---
相册 Gallery
之前的一些照片。我得去找找我越南北部的照片! Some pictures before. Need to find my old northern Vietnam ones!